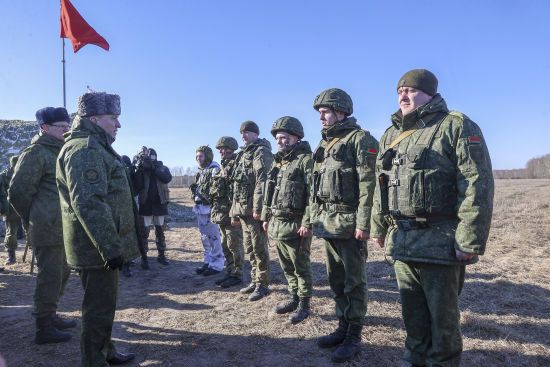 Konrad Muzyka emphasized that the educational activity of the military of Belarus last year was the maximum since 1991.
All signs indicate that Belarus will soon join the war against Ukraine.
This opinion was expressed by Konrad Muzyka, a Polish military analyst and head of the Rochan Consulting analytical center, in a comment Sky News.
Konrad Muzyka called the Belarusian troops "somewhat mysterious", but noted that the Belarusian army has been training almost non-stop since April and recently updated data on its reserves. The training activity of the military of Belarus last year was the maximum since the collapse of the USSR.
"We have never seen Belarusian troops train so intensively. They have practically worked out all the military capabilities that Belarus will need to enter the war," the expert said.
He reminded that the updating of data on reservists has been completed in Belarus. This means that the military reserve system is now ready for mobilization.
"Now they need a political decision to start mobilizing and go to war. Whether that will happen or not, we don't know, because we have no idea what Lukashenko is thinking. But everything points to the fact that Belarus will join the war at some point in the future." , the analyst added.
According to Muzika, currently 10,000 to 15,000 Russian soldiers are stationed in Belarus and regularly train together with Belarusian forces.
"So far, this activity is limited to the training grounds, and so far we have not seen any signs that the forces, either Russian or Belarusian, are really moving to the border with Ukraine," the Polish expert concluded.
The threat from Belarus: the latest news
We will remind that, according to the General Staff, there are currently 10,000 to 30,000 mobilized Russians training in Belarus.
Today, January 16, it became known that fighter jets have flown to Belarus and new equipment and soldiers have arrived. On January 16, Belarus also started joint military exercises with Russian aviation, during which all training grounds and airfields will be involved.
In addition, it was reported that the barracks for Russian pilots are urgently being modernized at the airfield in Lunyntsk, Belarus, near the Ukrainian border.
Earlier, the "Belarusian Gayun" monitoring group reported that Russia is likely to redeploy its troops in Belarus. According to information from the media, an analogue of the "Wagner" PVK is being created in Belarus.
Read also: