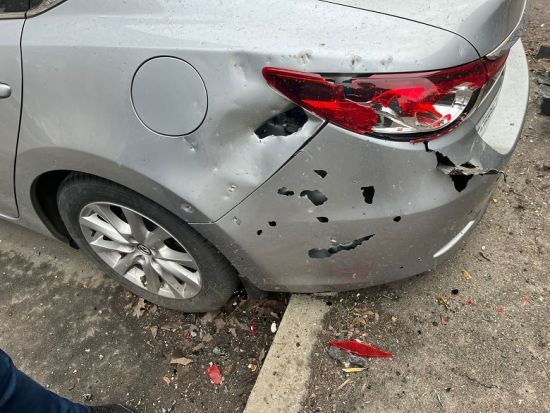 As a result of a rocket attack, all the property of a resident of the capital was destroyed while he was walking with his dog.
A resident of the capital's Sviatoshino district told the details missile strike on Kyiv, which the Russian aggressors carried out on March 9.
Kyivan in a comment to a journalist edition "Ukraine Now" told that in the morning he went for a walk with his dog and saw enemy rockets flying towards his house.
"I went out in the morning at six in the morning to walk my dog, I live in this house, and when I was coming back, around seven o'clock, a rocket flew overhead. It was very clearly heard, the direction was visible, and then immediately explosions. Two such explosions, very strong," said the eyewitness.
In addition, the man noted that he was not injured only as a result of a lucky accident. He stated that his car caught fire as a result of the attack.
"I came quickly, I ran up in just a couple of minutes. And I already saw that my car was on fire. She was alone, the debris just fell on her," he said.
He also added that it was already too late to save the property: "Well, that's it, the whole house is in ruins."
We will remind, earlier it was reported that as a result of a night rocket strike on March 9, three people were injured in Kyivcars and buildings were also damaged.
The official channel of the Commander-in-Chief of the Armed Forces of Ukraine reported that on the night of March 9 the aggressor Russia's army launched a massive missile attack on critical infrastructure facilities in various regions of Ukraine. The enemy launched 81 different missiles, as well as eight launches of Shahed drones.
The Kyiv City Military Administration said that in the capital after the night attack educational institutions work remotely. And kindergartens are in the mode of regular groups.
Read also: