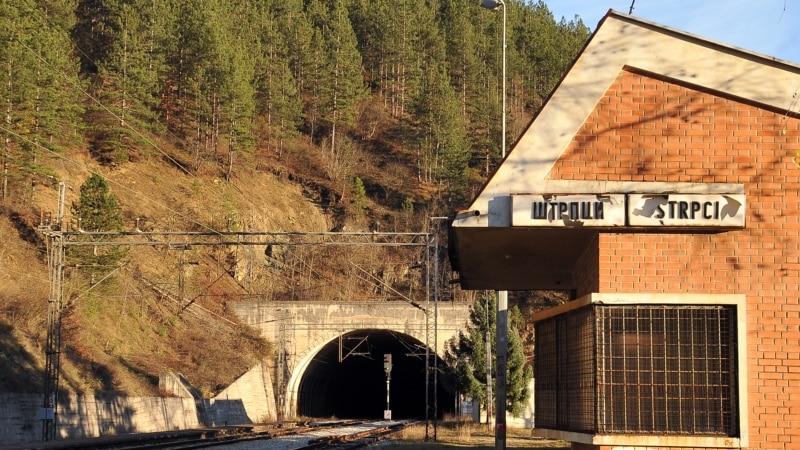 A Belgrade lawyer and several Serbian-based Russian and Ukrainian anti-war groups have filed a series of criminal complaints in court related to the activities on Serbian territory of the Kremlin-linked Vagner mercenary group, which has played a significant role in the Kremlin's invasion of Ukraine.
The criminal complaints were filed on January 19 against the director of Serbia's Security Information Agency (BIA), Aleksandar Vulin; the Russian ambassador to Serbia, Aleksandr Botsan-Kharchenko; the Serbian-Russian Humanitarian Center in Nis; and members of the right-wing organization Narodni Patrole (National Patrol).
The complaints against Kharchenko, several unnamed people from the Russian Embassy, and the Nis humanitarian center, as well as Vulin and several unnamed employees of BIA, were all filed by Belgrade-based lawyer Cedomir Stojkovic. Complaints against the head of Narodne Patrole, Damjan Knezevic, and unnamed members of Narodni Patrole were filed by Stojkovic together with representatives of the anti-war groups that monitor Russians, Belarusians, Ukrainians, and Serbs.
Under Serbian law, it is illegal for Serbs to participate in conflicts abroad.
The issue gained prominence earlier this week when President Aleksandar Vucic, in a rare rebuke of Moscow, slammed Russian advertisements in Serbian in which the Vagner Group made calls for volunteers to join its ranks.
Stojkovic said the criminal complaints target those who are seeking to recruit Serbs to fight on Russia's side in the war in Ukraine.
"Kharchenko leads, Vulin prevents [Serbian authorities'] counterintelligence work, the center in Nis is a [pro-Russia] platform, and we have the Vagner reality," Stojkovic wrote on Twitter.
In addition to Stojkovic and his civic group Oktobar, the Russian Democratic Society, the Ukrainian diaspora association Cini Dobro (Do Good), and the humanitarian organization Golub Mira (Dove of Peace) were among the signatories of the criminal complaints.
Members of Narodne Patrole painted a mural honoring the Vagner Group in Belgrade this month. Activists have painted over it several times in an attempt to remove it.
Knezevic was part of the group from Serbia who visited the Vagner Center in Russia in November.
"Acting through the Vagner Group on the territory of Serbia, that man (Knezevic) and other people, whose names we have not published, but who are known to the BIA, encourage, motivate, give instructions, and help citizens of Serbia to join the Russian Army in the war in Ukraine," Stojkovic said.
Stojkovic told journalists after submitting the criminal charges that they also refer to the actions of the Russian diplomatic mission "on mobilizing Serbian citizens to participate in the war in Ukraine."
Stojkovic said BIA under Vulin's leadership failed to counter Russia's intelligence-gathering and recruiting activities in Serbia.
"We have a well-founded suspicion that Aleksandar Vulin, as director of the BIA, gave orders, directives, and guidelines not to prevent the activities of the Vagner Group in Serbia, and to prevent counterintelligence work in Serbia," Stojkovic said.
He said Kharchenko used his diplomatic position to facilitate the recruitment of Serbian citizens to train and fight on Russia's side in Ukraine.
"On the website of the Russian Embassy in Serbia there were clear instructions on how to join the Russian Army, and giving such instructions is a criminal offense under Serbia's Criminal Code," he said.
Such instructions were published several years ago on the website of the Russian Embassy. After the instructions began to spread on social networks, they were removed from the embassy site but remain in Google history.
RFE/RL contacted the institutions and individuals against whom criminal charges were filed, but they were not available for immediate comment.
As Russia's conventional forces have reeled under pressure from a motivated Ukrainian Army, President Vladimir Putin has turned to Vagner, run by his close ally Yevgeny Prigozhin, to take on a more prominent role. The group now plays an important part in Russia's push to take control of the eastern Ukrainian city of Bakhmut.
Prigozhin, also known as "Putin's chef" because his businesses catered Putin's dinners with foreign guests, has reportedly recruited thousands of inmates across Russia in recent months with the promise of pardons in exchange for their participation in the Ukraine war.
Under Serbia's judicial system, a private person or entity can file a criminal complaint, but it is the prosecution that decides whether it will accept it and press official charges. The prosecution can also choose to drop such a complaint.