ALONA MAZURENKO — MONDAY, 1 AUGUST 2022, 14:10
Oleksii Reznikov, Minister of Defence of Ukraine,  has announced that the German MARS II long-range multiple launch rocket systems have arrived in Ukraine already.
Source: The Minister of Defence on Twitter
Quote from Reznikov: The third brother in the Long Hand family has arrived in Ukraine – the MARS II MLRS from Germany.
Thanks to Germany and to my colleague, the Minister of Defence, Christina Lambrecht personally for these systems. Our artillerymen salute our German partners."
Reference: Mars II/MLRS-E is the Mars II rocket launch system, which is a licensed copy of the American M270 MLRS.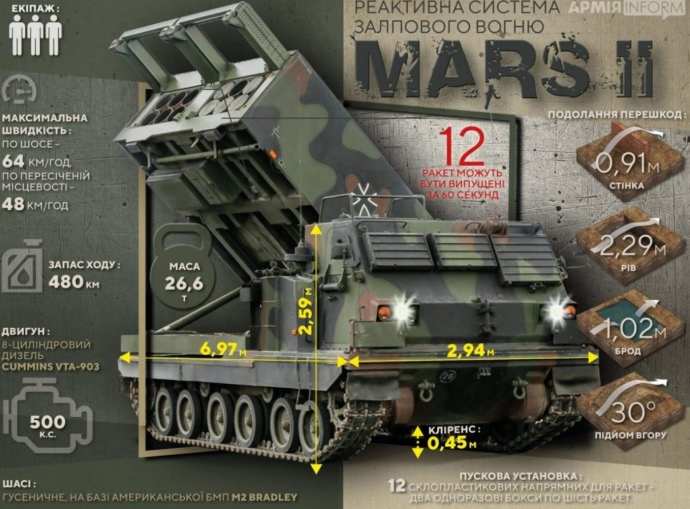 PHOTO: ÀÐ̲ßINFORM
The German company Krauss-Maffei-Wegmann has modified the MLRS on the request of the Bundeswehr. The size and weight have been increased.
The launcher consists of 12 fibreglass missile guides – two disposable boxes of 6 missiles each. All 12 missiles can be launched in 60 seconds.
The MLRS is equipped with the new EFCS (European Fire Control System) developed by Airbus Defence and Space.
Depending on the type of ammunition, the missile range is 38-300 km.
Reminder: On 15 July, the first M270 MLRS long-range multiple-launch rocket systems arrived in Ukraine.
Journalists fight on their own frontline. Support Ukrainska Pravda!