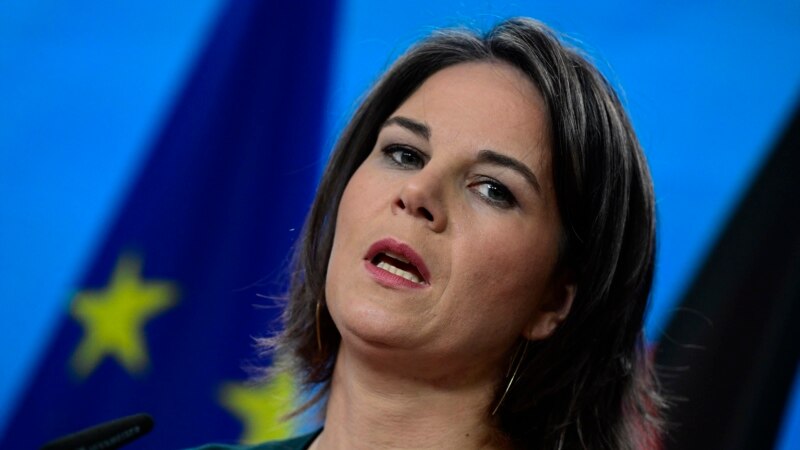 Britain has described Iran's execution of British-Iranian national Alireza Akbari on espionage charges as a "barbaric" act that will not go unchallenged.
The hanging of Akbari, a former Iranian deputy defense minister sentenced to death for spying for Britain in what critics have called a "political" decision, was announced by the Iranian judiciary's Mizan news agency on January 14. The report did not say when Akbari's execution took place, although some reports have indicated it may have been days ago.
Akbari reportedly moved to Britain after he was briefly detained in Iran in 2008 and is believed to have been arrested in 2019 after returning to Iran. Few details have been released about his case, as accusations of espionage and other crimes related to national security in Iran are usually tried behind closed doors.
Mizan reported on January 14 that Akbari was executed after being "sentenced to death on charges of corruption on Earth and extensive action against the country's internal and external security through espionage for the British government's intelligence service."
The report also alleged that Akbari had received payments amounting to more than $2 million for spying.
Iranian state media this week aired video it said showed that Akbari played a role in the 2020 assassination of one of Iran's top nuclear scientists, Mohsen Fakhrizadeh. The video does not show Akbari confessing to involvement in the killing, only saying that a British agent had asked him for information about Fakhrizadeh. Tehran has blamed the assassination on Israel.
Akbari was sentenced to death last week and Britain and the United States had called on Iran to not carry out the sentence.
British Prime Minister Rishi Sunak, responding on Twitter to reports that Akbari was hanged, on January 14 called the execution "a callous and cowardly act carried out by a barbaric regime with no respect for the human rights of their own people."
Iran does not recognize dual nationality for its citizens.
British Foreign Secretary James Cleverly, in a January 14 tweet, wrote that "this barbaric act deserves condemnation in the strongest possible terms. This will not stand unchallenged."
Iran's Foreign Ministry announced on the same day that it had summoned Britain's ambassador to Tehran to protest alleged acts against Iran's national security.
"In response to Britain's unconventional interventions, including in the national security field of the Islamic Republic of Iran, today, Simon Shercliff, the ambassador of this country in Tehran, was summoned," the ministry said in a statement. "The British government should be held accountable for establishing unconventional communications leading to an attack on [Iran's] national security."
The statement added that the "British government must accept the consequences of the responsibility of continuing its unorthodox and interventionist approach."
Akbari served as deputy to Iranian Defense Minister Ali Shamkhani from 1997 to 2005 as part of the administration of reformist former President Mohammad Khatami. Akbari had previously been an adviser to the Iranian Navy and implemented the UN resolution that ended the 1980-1988 Iran-Iraq War.
In an audio recording broadcast last week by BBC Persian, Akbari said he confessed to crimes he did not commit while being tortured for months in detention.
"I was interrogated and tortured for over 3,500 hours in 10 months," he said. "All of that was recorded on camera…. By using the force of gun and making death threats they made me confess to false and baseless claims."
In the video broadcast by Iran's state news agency IRNA on January 12, Akbari discussed being asked about the nuclear scientist Fakhrizadeh by a British agent.
"They wanted to know about high-ranking officials depending on the major developments," Akbari said. "For example, he [the agent] asked me whether Fakhrizadeh could be involved in such and such projects and I said why not."
The execution comes as relations between Iran and Britain have deteriorated in recent months, with London criticizing Tehran's crackdown on mass protests in Iran.
Prominent Iranian lawyer Saeed Daehgan criticized Akbari's death sentence as "political" in a January 14 tweet. The lawyer, who is believed to be living abroad but has represented many cases involving dual nationals in Iran, suggested that it was related to reports that Britain is planning to formally declare Iran's Islamic Revolutionary Guards Corps a terrorist organization.
With reporting by RFE/RL's Radio Farda, Reuters, dpa, and AP