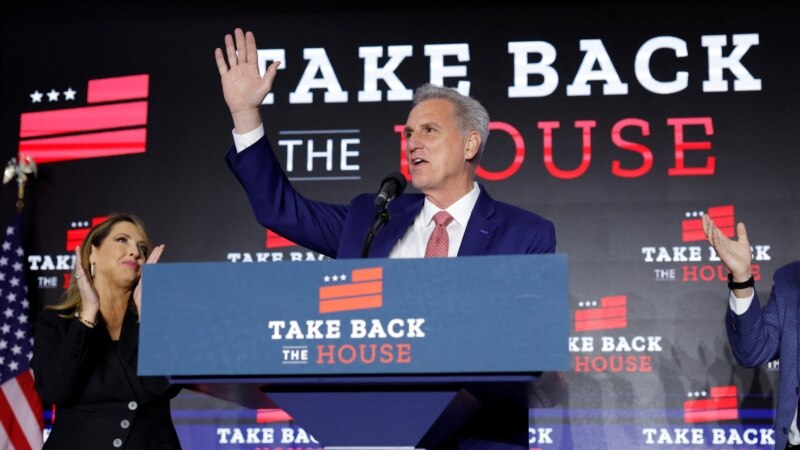 On Wednesday, after the counting of votes in one of the districts of California, it became clear that the Republican Party received the majority of votes in the House of Representatives in the midterm elections for Congress held on November 8.
Currently, Republicans receive 218 seats in the House of Representatives of the upcoming convocation, Democrats – 211. It is not yet known who will receive the remaining 6 mandates of members of Congress. The delay in the vote counting procedure is due to the fact that a significant number of Americans sent their ballots by mail. Receiving and processing them takes considerable time.
US President Joe Biden congratulated the chairman of Republicans in the House of Representatives, Kevin McCarthy, with assurances of readiness to work together.
Kevin McCarthy is expected to become the next Speaker of the House, replacing Democrat Nancy Pelosi.
"Americans are ready for change and we are ready to make it happen," McCarthy said.
The Republican victory in the lower house of Congress ends a two-year period of single rule by the Democratic Party, which was able to pass laws without regard to the opinion of Republicans, thanks to the fact that it "held" the White House and had a majority in both houses of Congress.
From next year, the approval of any laws and the country's budget will be possible only with the consent of the Republican majority of the House of Representatives.
With the Democrats retaining their majority in the Senate, analysts rule out Congressional approval of major bills in the next two years.
It is expected that the new arrangement of forces in the Congress may affect the allocation of aid to Ukraine and will cause serious disputes regarding the increase in budget expenditures and tax policy.
Kevin McCarthy announced that increasing energy production and strengthening the country's southern border will be a priority for Republicans.