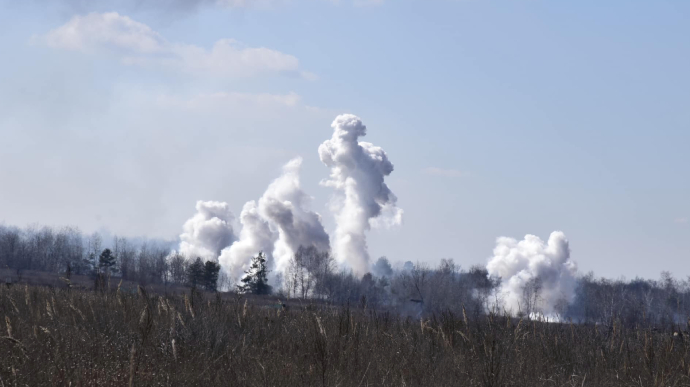 Russian forces carried out 7 attacks on different locations in Sumy Oblast on 10 March: the oblast was hit with 54 rockets, 100 grenade-launcher projectiles, 84 machine-gun rifle cartridges, 4 machine-gun rounds. The Russians also deployed UAVs to drop 2 explosive devices.
Source: Sumy Oblast Military Administration on Facebook
Details: Russian forces hit the Shalyhyne hromada with six rockets fired from self-propelled artillery systems. A power line and three residential buildings were damaged: their windows shattered, and one of the roofs and a fence were damaged.
The Russians deployed machine guns (88 projectiles) and grenade launchers (48 projectiles) to fire on the Khotin hromada in the morning.
The Nova Sloboda hromada was hit with 5 artillery projectiles and 14 mortar-launched bombs.
Russian forces deployed mortars to fire on the Krasnopillia hromada, and used UAVs to drop 2 VOG explosive devices on its territory.
The Bilopillia hromada was hit with 16 mortar bombs launched from the Russian territory, 4 self-propelled artillery projectiles and 56 automatic grenade launcher projectiles.
Russian forces fired 4 machine gun rounds on the Esman hromada.
They launched 7 mortar bombs on the Myropillia hromada.
Journalists fight on their own frontline. Support Ukrainska Pravda or become our patron!