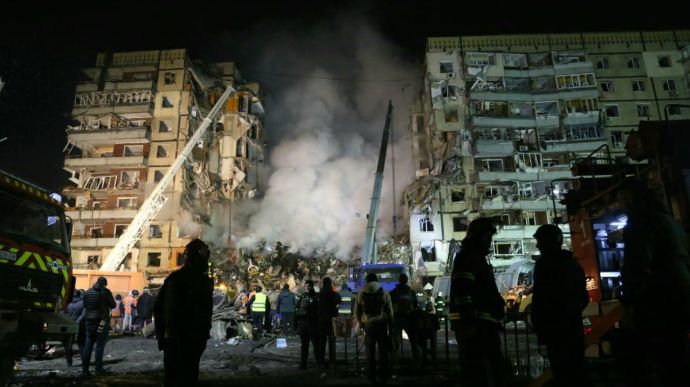 Twelve people, including a 15-year-old girl, were killed and 73 injured in a missile attack on a multi-storey residential building in Dnipro on Saturday, 14 January.
Source: Kyrylo Tymoshenko, spokesman of Office of the President of Ukraine, on Telegram; Valentyn Reznichenko, Head of Dnipropetrovsk Oblast Military Administration on Telegram; Borys Filatov, Dnipro Mayor 
Quote from Tymoshenko: "Savages, at least one building section was destroyed, people who stayed at home for the holiday are trapped under the rubble."
Details: Later, Reznichenko reported that the youngest of the wounded is three years old. A nine-year-old girl is in critical condition.
At 21:54, Reznichenko reported that nine people were killed in the attack on the building, including a 15-year-old girl. Sixty-four people were injured, of whom 59 were hospitalised. Later, he added that 12 people were killed.
Kyrylo Tymoshenko clarified that as of 21:50, nine people, including a minor, were killed in the missile attack; 64 people, including 14 children, were injured; 37 people, including 6 children, were rescued from the building.
Rescue and search operations are ongoing.
In turn, Dnipro Mayor Borys Filatov said that an entire district of the city and its utility services have been cut off the grid because of the strike.
President Volodymyr Zelenskyy reacted to the attack on the Dnipro by saying that all those involved in this terror will bear the maximum responsibility.
Journalists fight on their own frontline. Support Ukrainska Pravda or become our patron!