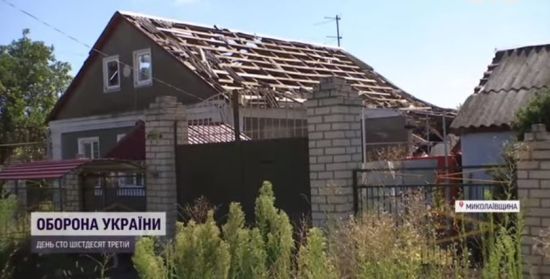 Two loaves of bread per person and a bag of canned goods – humanitarian aid is taken to the most remote front-line villages in the Mykolayiv region.
Despite heavy shelling, people still remain in front-line villages in Mykolaiv Oblast and refuse to leave, TSN reports.
The volunteers are local and constantly take bread to their broken village, because there are still people left here. "I don't go because I have nowhere to go and I, as a patriot of my village, am used to living here, used to helping people," says a local woman.
Their village is in the line of fire. It is very difficult to find a whole yard, most of it is destroyed. "The most difficult situation is that there is shelling, there is constant destruction of buildings and structures. There is such a situation that on the one hand they need to be evacuated, on the other – the residents do not want to do this, because they are already attached to their residents, and they survived the bombing for 5 months," says the head of the Shevchenkiv Territorial Community Oleg Pylypenko.
People come one by one to get bread, some come on a bike, and some on old Zhigulys, to take all the neighbors at once. The trunk of the volunteer car with bread quickly empties. "I took 800 at a time, if by minibus, then we bring 1,000, but it's dangerous to take a minibus," the volunteers say.
Despite the shelling of the village and its surroundings, humanitarian aid, water and bread are constantly brought to the people. Everything is distributed quickly so as not to gather in one place, because explosions are constantly going off in the vicinity. Locals are now thinking about how to winter and with what. "People are worried about the winter period, they don't know how to spend the winter, where to get firewood, because there will definitely be no gas," people say.
The war leveled all the villagers, now they survive by helping each other. Some carry bread, others take care of the old and infirm.
The local resident is an ethnic Russian woman who has lived in this village for more than 40 years and refused to leave for a long time. She says this is her home. Using his example and shelling by the Russian occupiers of the village, he tells his relatives in Russia the truth about the war. "My relatives believe that Putin created chaos and disorder here. I pray at night that he will die. Deception goes like that there, they hang noodles like that," she says.
"Russian peace" destroyed everything that these people had, their houses, their farms, but it did not destroy the will and faith in victory. None of these people doubt that the occupiers will be defeated, as well as the fact that everything will be rebuilt.
Read also:
The military in Donetsk are on the defensive and hitting the enemy when shells are constantly flying from the sky
Kharkiv region suffers from the enemy's "defensive" weapons, which turn the occupiers into terrorists
Ukraine is likely to seize the strategic initiative in the war against Russia – ISW