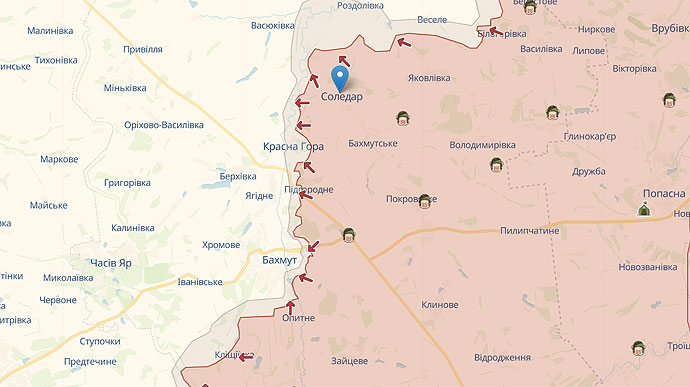 Ukrainian troops have apparently withdrawn from the town of Soledar and continue to defend against Russian forces on the outskirts of Bakhmut.
Source: Latest UK Defence Intelligence update on the situation in Ukraine, as reported by European Pravda 
Details: As British intelligence notes, by the end of 16 January 2023, Ukrainian forces had highly likely withdrawn from the Donbas town of Soledar, leaving Russian military and Wagner Group proxy forces in control. Ukrainian forces have likely established new defensive lines to the west.
Russia's advance on Soledar primarily consisted of Wagner forces and was a supporting operation aimed to enable the eventual envelopment of the larger settlement of Bakhmut.
One of Ukraine's two main supply routes into Bakhmut is now under increasing pressure.
Imagery shows that since the start of January 2023, the south and east of Bakhmut has continued to be subjected to intense artillery bombardment. Ukrainian forces almost certainly continue to defend against Russian forces on the outskirts of the city, the UK report said
Background: Earlier, British intelligence reported that both Ukraine and Russia had made limited advances in the last six weeks, but for operational breakthroughs, both sides need to create a joint force capable of using this progress.
Journalists fight on their own frontline. Support Ukrainska Pravda or become our patron!