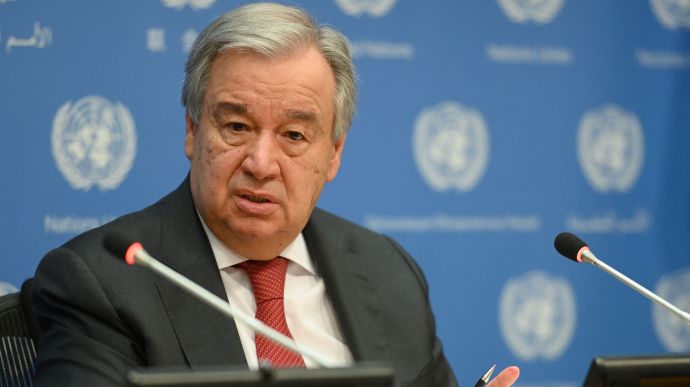 Antonio Guterres, photo by Getty Images
UN Secretary-General António Guterres, speaking at the World Economic Forum in Davos on 18 January, has acknowledged that he does not consider peace talks between Ukraine and Russia likely to take place in the near future.
Source: European Pravda, citing the UN Press Service
"There will be an end… there is an end of everything, but I do not see an end to the war in the immediate future. I do not see a chance at the present moment to have a serious peace negotiation between the two parties," the UN Press Service quoted Mr Guterres as saying.
He reiterated that the full-scale Russian invasion of Ukraine violated international law and the UN Charter, emphasising the difficulty of ending the violence when the two sides continue to have "two different ideas about what the Russian empire was, what the nationalities were".
"This makes it more difficult to find a solution, but that solution needs to be based on international law and needs to respect territorial integrity… I don't see conditions for that to happen in the immediate future," the UN Secretary-General added.
Guterres also said that Kyiv and Moscow still cooperate on some issues, such as prisoner of war exchange and support for the work of the International Atomic Energy Agency.
Last month, the UN Secretary-General said that he was pessimistic about the prospects of the armed conflict between Ukraine and Russia, but that he hoped that it would end in 2023.
Also at the Davos Forum, Polish President Andrzej Duda called on the West to increase military support for Ukraine, as a key moment in the war against Russia may occur in the coming weeks. NATO Secretary General Jens Stoltenberg reiterated the call to increase the weapons supply to Ukraine at what he called a pivotal moment in Russia's full-scale aggression. 
Journalists fight on their own frontline. Support Ukrainska Pravda or become our patron!