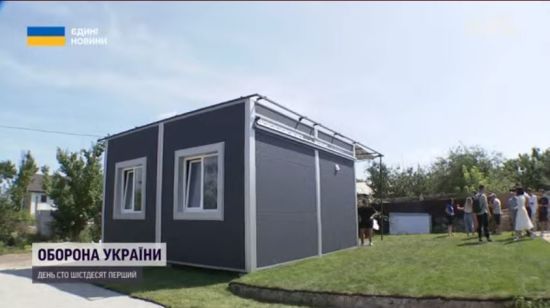 A new home in three days – that's how long it takes to assemble a modular house.
Three such houses were purchased with funds collected by American schoolchildren for Ukrainians whose homes were destroyed by Russian shells. The Americans came to collect the houses personally – to Makarov, in the Kyiv region, TSN reports.
Here, many families lost their homes after shelling. Among them is the family of Mrs. Elena. Her 13-year-old son Misha miraculously survived when the ceiling and fragments fell, which did not harm anyone in the house. Misha, together with his mother and grandfather, ran out of the house because a fire had started. And literally within an hour, only the walls remained from their home. Olena and her son left Makarov. But their grandfather stayed, said that he would stay in the summer kitchen and did not survive further shelling.
A truck and several other cars drove the elements of the modular house, which will be placed in the yard, to Ms. Elena's circle. Schoolchildren from the United States collected money for a new home. They came to Ukraine to help with building a house and to meet Olena and Mykhailo.
All this was a surprise for Mrs. Elena. She was a little confused by such attention and understanding that she would have a new home.
American schoolchildren devoted all their free time to collecting funds for Ukrainians. "It was not easy. My friends and I set up stands, showed people photos from Ukraine, their destroyed houses. We went around the neighbors and asked people to help Ukrainians," says volunteer Chase, who collected money for Ukrainian families.
The modular house will be assembled within three days. It is already ready at Mr. Valeriy's on the next street. There are two rooms, a hall, a kitchen with a refrigerator and an electric stove. There is a washing machine in the shower room, all communications are connected. Valeriy understands the construction business, he says, the house is of high quality. "He is fit for life. Warm walls – 200 millimeters thick. I think that winter will show," he says.
In general, American schoolchildren assembled three such modular houses. First of all, families with children whose homes were destroyed by Russian shells will settle in them.
Read also:
The government explained why not all resettled people received the promised payments: when to wait and how to act
The price of buckwheat already exceeds 100 hryvnias, but farmers predict a decrease in prices: when and by how much
Pelosi has flown, and Taiwan is preparing to be encircled by the Chinese military over an alleged exercise