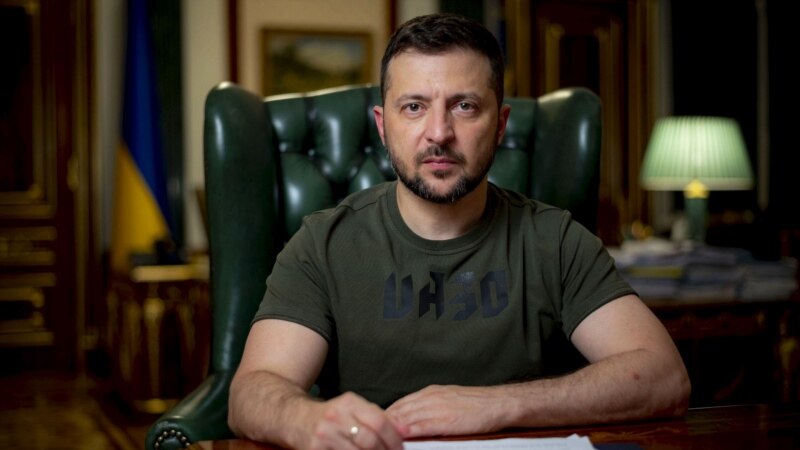 The President of Ukraine, Volodymyr Zelenskyy, called the situation when former leaders of states work for Russia disgusting. Such words of the president were voiced against the background of the statements of German ex-chancellor Gerhard Schröder, who had a conversation with Russian President Vladimir Putin and publicly conveyed his theses about the alleged desire for a diplomatic settlement of the war with Ukraine.
According to Zelenskyi, Russia is currently activating "various emissaries with theses that the terrorist state allegedly wants negotiations."
"If Russia really really wanted the end of the war, it would not have withdrawn its reserves to the south of Ukraine and would not have produced mass graves of murdered innocent people on Ukrainian territory. Well, in general, it is simply disgusting when former leaders of important states with European values ​​work for Russia, which is fighting against these values. Therefore, we need to fight, we need to beat terrorists on our land, we need to spread information about Ukrainian interests and achieve success and victories for Ukraine. To each and every one at their own level – both Ukrainians and partners. Terror can be stopped only by joint indomitable force," Zelenskyy said.
Mykhailo Podolyak, adviser to the head of the President's Office, also wrote on Twitter on August 3: "With one hand, Russia is raising the level of terror with new barbaric crimes, and with the other, it is inviting surrender. Schroeder is a well-known herald of the empire and a voice at the Russian royal court. If Moscow wants dialogue, the ball is in its court. First, a cease-fire and withdrawal of troops, then a constructive one."
Earlier in an interview in German N-tv channel German ex-chancellor Gerhard Schröder, known for his ties to the Kremlin, said that last week, while on "vacation" in Moscow, he had a meeting with Russian President Vladimir Putin, during which he learned that "the Kremlin wants to reach a negotiated solution" to the war in Ukraine. He also talked about the possibility of "expanding the grain agreement" before the ceasefire.