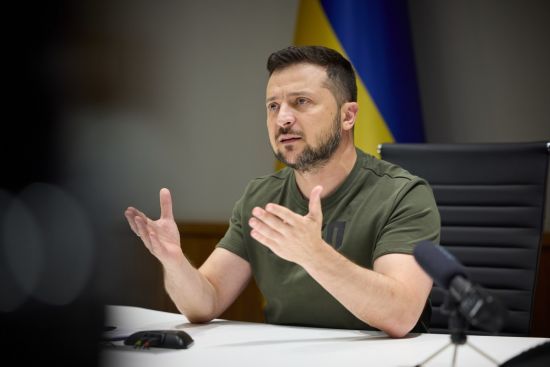 If there were no people in Ukraine, we would lose our state, the president said.
The President of Ukraine, Volodymyr Zelenskyy, said that after the first Russian missile attack on Kyiv, there was a proposal to evacuate the entire population of the capital.
The head of state told about this in an interview with Ukrainian journalists.
"When there was the first missile attack on Kyiv, there was an offer evacuate the capital, the entire population, close all infrastructure, all shops, turn off the electricity, etc. This was the proposal according to what could happen, that there would be no light, the sewage treatment (systems – ed.) would not work, so there would be no drinking water and then two dots, and a lot of things that would not happen. It was on the first day of powerful missile strikes," the president shared.
He also explained why he did not agree to the evacuation of Kyiv.
"My question was the following. A when there will be missile strikes across the country, where will we evacuate it? Well, where? To Poland, Slovakia, Romania – where? And tell me, after a major global evacuation, give me at least one percent guarantee that Russia will not come back and enter and completely occupy, occupy our territory. Because if there are no people in the city, just then the rockets will be in full force, there will be Mariupol in every city, there will be death everywhere," Zelenskyy explained.
He also assured that if all people left Ukraine, the state would already be lost.
"Well ok, well, let's collect everyone and take them out of our country. And what will happen then? And who should protect? Do you think that only people with guns should protect? Don't they have wives and children? (…) If there were no people in Ukraine, we would lose our state. This is my subjective opinion. I looked at what happened in the history of our small villages in Donbas. Everywhere where there is nothing, everything is simply destroyed, houses, there were no people there. There were no people because it was scary. Sorry, this is not a human shield, not in this issue," the president said.
It will be recalled that in July, Zelenskyi said that if the authorities had warned Ukrainians in advance about a full-scale Russian invasion, the enemy would have captured the country in three days, this would have caused chaos in society and serious economic losses.
At the same time, the advisor of the President's Office, Oleksiy Arestovych, said that if the authorities had warned Ukrainians about the invasion, they would not have believed it. Some would still believe, but then there would be a panic on a national scale.
Read also: