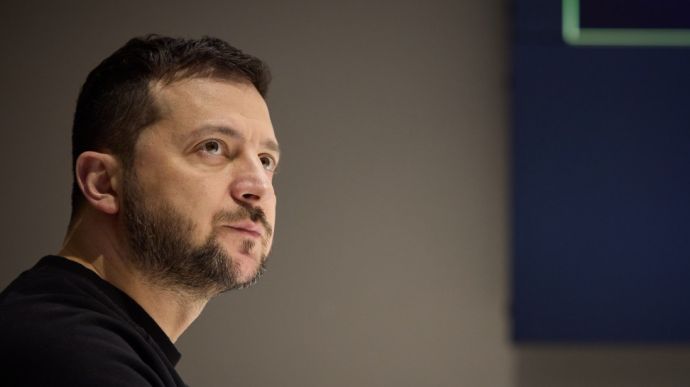 Volodymyr Zelenskyy, photo by OP
Ukrainian President Volodymyr Zelenskyy has called on Ukraine's partners to show Russia that it will never be able to defeat Ukraine. He explained that Western-supplied tanks are key in this respect, and stressed the importance of Germany's role.
Source: Volodymyr Zelenskyy in a video address
Quote from Zelenskyy: "Now the key task of our country, the key task of all of us and of all our partners, is to make the terrorist state realise that they will not be able to achieve any of their goals in Ukraine. No matter how long the war lasts. No matter how much effort they expend and how many of their people the Kremlin's masters throw on the battlefield.
Several elements, some defence and some political, have to be put in place in order to fulfil this goal. One of the most important elements is: tanks. Modern Western tanks, the supply of which we are negotiating with our partners. I am grateful to everyone who has already approved the necessary decisions."
Details: Zelenskyy thanked Charles Michel, President of the European Council, who was in Kyiv today and who is urging European countries to approve decisions to supply tanks to Ukraine.
Ukrainian President said that "the required coalition of partners has actually already been formed, and now we are waiting for a decision from one European capital that will activate the established cooperation networks" to supply tanks to Ukraine.
"I have faith that German leadership will remain unwaveringly strong," Zelenskyy added.
"Today we also saw several of our partners make powerful decisions to strengthen our defence – primarily by strengthening our artillery."
Zelenskyy thanked:
Estonia – for another package of military aid, largest to date; and for howitzers and ammunition;
Sweden – for a new military package, NLAW, Archers and IFVs;
Denmark – for approving the decision on CAESARs for Ukrainian soldiers; and
Lithuania – for a new military package, anti-aircraft systems, ammunition and helicopters.
Quote from Zelenskyy: "We are preparing for tomorrow's Ramstein format meeting [which gathers Ukraine's allies and partners to discuss the country's defence – ed.]. We expect powerful decisions. We expect a powerful military support package from the United States.
Thank you to everyone who is defending freedom with us!"
Journalists fight on their own frontline. Support Ukrainska Pravda or become our patron!